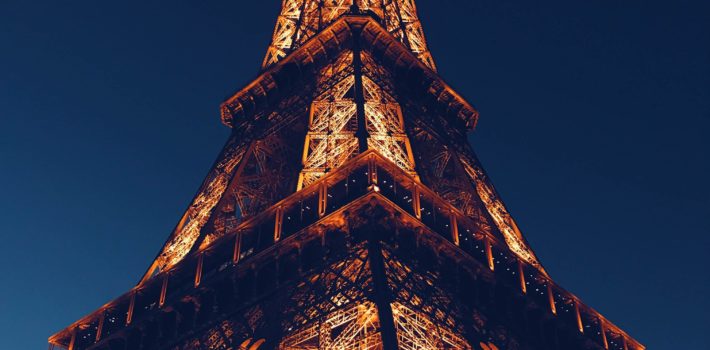 When the mood of love strikes both of you, take your time and get ready — next week in Paris is going to be quite an unforgettable experience.
But, be on the lookout for the city's overwhelming charms; Cupid is hiding at its every corner, making you hopelessly fall in love with beautiful Parisian scenery and your other half all over again.
Luckily, these days he was in such a hurry to use his magic bow that he accidentally dropped a tiny, neat pocket-book right at the foot of the Eiffel Tower. Flicking through it, we found out that it illustrates some of the most intimate venues in the City of Lights. Today, we are happy to share it with you. Now, you can lift the veil of secrecy by yourself, diving into the world of romance and genuine excitement!
The Eiffel Tower
The most recognizable place in Paris is also a lovely spot to relish memorable moments with your sweetheart. Take an elevator and explore the top level of the Eiffel Tower. There you will find a trendy Champagne Bar offering you a unique experience of having a glass of fine French champagne at the height of 276 meters. Take her hand and enjoy a clear view of the city as it unfolds in front of you.
The Wall of Love
If you are having a walk in the Square Jehan Rictus, make your way to the "I Love You Wall" — a masterpiece of artwork dedicated to those enamoured of each other. The wall was created to unite lovers from all over the world and add a touch of romance to the layout in a unique French manner. As you look at "I Love You" inscribed on the wall 311 times in 250 languages, you can feel the shared sense of love, peace, and solidarity stronger than ever. When you are together, every second is precious.
Parc Montsouris
Parc Montsouris is a lush, beautiful oasis situated in central Paris. During warm seasons, this picturesque park explodes with colours and sentimentality. Here and there, its open green space is scattered with comfortable benches inviting you to sit down and savour unique moments of life. Charming, quiet, and relaxing, Parc Montsouris is a good place to make a love confession to her.
Temple de l'Amour
The Temple of Love is one of the most romantic places in France. It's situated 20 km away from Paris city and is hidden on a small island behind the Petit Trianon. At the centre of the temple, there is a statue of Cupid: a symbol of pure love. Temple de l'Amour is often visited by couples on honeymoon and is worth taking a short trip.
Overcome the barriers of distance with our chauffeur service in Paris. We are here to provide you with first-class, professional services and help you quickly get around Paris. Exploring Paris has never been so easy. Have a wonderful time!