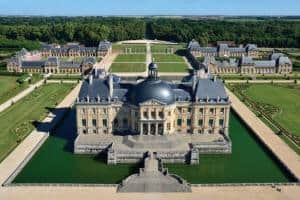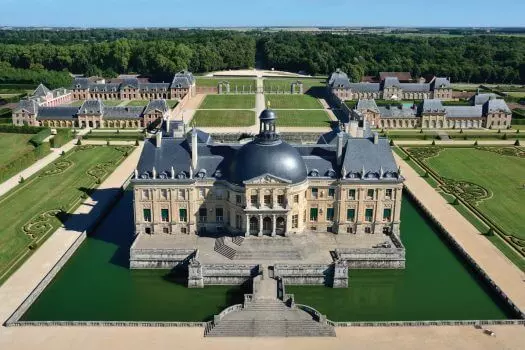 This private tour is only on Saturdays from May to October and start at 15 :30.  Your private driver will pick you up for this very special journey to the wonderdul castle chateau of Vaux le Vicomte.
This castle is a baroque French Chateau , 55 km southeast of Paris and was built from 1658 to 1661 for Nicolas Fouquet, the superintendent of finances of Louis XIV.
The castle was in many ways the most influential work built in Europe in the mid-17th century and one of the most elaborate and grand house built in France. At Vaux-le-Vicomte, the architect Louis Le Vau, the landscape architect André le Nôtre, and the painter-decorator Charles Le Brun worked together on a large-scale project for the first time. Their collaboration marked the beginning of a new order: the magnificent manner that is associated with Louis XIV style.
The castle was refined, and dazzling to behold, but these characteristics proved tragic for its owner: the king had Fouquet arrested shortly after a famous party that took place on 17 August 1661 where Molière's play 'Les Fâcheux' debuted. The celebration had been too impressive and the superintendent's home too luxurious. Fouquet's intentions were to flatter the King: part of Vaux-le-Vicomte was actually constructed specifically for the king, but Fouquet's plan backfired.
The castle may have been under threat of abandon or destruction, but has survived, thanks to the unfailing determination of three centuries of dedicated individuals. The castle stands as a symbol of the intelligence, taste and independence of its creator, Nicolas Fouquet.
When you will arrive , your MyDriverParis chauffeur will take you for a private, guided visit of the chateau and the exceptional gardens. After your visit, you will have time for refreshing and strolling through the gift shop. At night , let's discover the gardens of Vaux le Vicomte that in the mean time have been illuminated by over 2000 candles, accompanied by classical music. You can grab a glass of champagne that you buy in the champagne bar and sit in a deck chair for enjoying. Around midnight your guide will drive you back to Paris in our luxury car.
Pricing :
| | | |
| --- | --- | --- |
| Mercedes E Class |  People : 4 | Total price: 800€ |
| Mercedes V Class |  People : 7 | Total price: 900€ |
| Mercedes S Class |  People : 4 | Total price: 1200€ |
| Mercedes Sprinter |  People : from 12 to 30 | Total price: 1600€ |
For booking this tour, please contact us at : contact@mydriverparis.com