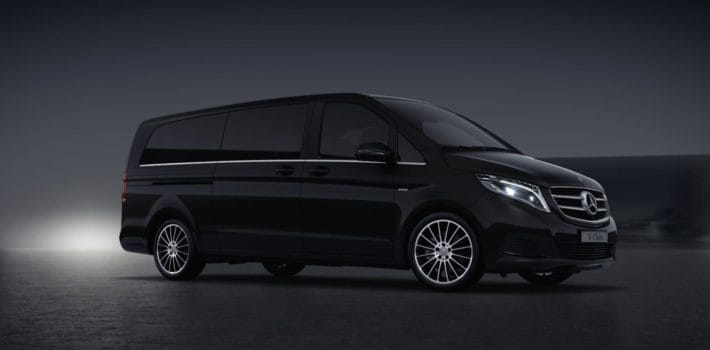 Booking a Mercedes-Benz V-Class in Paris
Comfort and luxury on a large scale: these are the two words giving a clear description of a Mercedes-Benz V-Class. When it comes to family and group trips or driving to a red carpet event, this car stands out from all the rest for its high level of comfort and greater functionality. And, what could be better than Mercedes-Benz V-Class in terms of technical capabilities? Probably, only its latest redesigned version with improved efficiency and brand new tech solutions; the one that we are going to add to our car park in March 2019.
So what is new about this model and what makes it a good choice for our clients?
Vehicle characteristics
A new car model has been significantly improved to prioritize demands of loyal customers. A new Mercedes-Benz V-Class boasts added spaciousness and practical suitability, having enough room to accommodate up to eight people. New features include redesigned front end, enhanced interior, sporty exterior styling, new engines, revamped air vents and many more. As a result, it meets a wider range of passengers' needs and can serve not only as a family car but also as a luxurious VIP shuttle.
Onboard services    
Our drivers offer free drinks and snacks to each of our clients on board of a shuttle.
Pricing
Our list of rates is divided into hourly rates and daily rates and is classified in accordance with your personal needs.
Business trips and events
A perfect choice for getting to red carpet events in a group. For your convenience, this plan is provided on an hourly basis. A fixed hourly rate for booking a Mercedes V-Class is €65 per hour with a minimum of 2 hours.
Weddings and longer trips
Mercedes-Benz V-Class is a perfect vehicle for getting you and your family to the wedding ceremony. Also, that is a great choice for going on long trips in a seamless manner.  This plan is provided on a daily rate basis. Weddings and longer trips plan includes 10 hours for a total of €650.
Airport transfer
Take the hassle out of getting from/to the airport in a group with our airport transfer service.Airport transfer service is available on your request; the cost of transportation in one direction with 1 hour waiting at the airport is €100.
For additional information and service rates, please visit https://www.mydriverparis.com/service-rates/